Below are press releases from the Massachusetts Republican Party Committee:
PRESS RELASE: Rep. Robertson blames COVID-19, his treasurer, and the MassGOP for failure to follow to campaign spending reporting laws
WOBURN, MA — Massachusetts Republican Party Chairman Jim Lyons responded Monday to state Rep. David Robertson's excuses after the MassGOP caught on to the Tewksbury lawmaker's failure to report a single campaign expenditure other than recurring $3 bank fees since last April.
Robertson issued a statement over the weekend blaming the episode on a "forced Republican narrative regarding so-called 'transparency'" while also blaming his campaign treasurer and the COVID-19 virus, despite the passage last year of a law establishing a new campaign depository system that requires more frequent spending disclosures.
Robertson voted in favor of the bill, which was later signed into law by Gov. Charlie Baker and championed by Democrats as "reflect(ing) the state's commitment to innovation and transparency in our elections," less than a year ago.
"Rep Robertson has spent plenty of money on ads promoting himself yet you won't find that anywhere in filings submitted to the state Office of Campaign and Political Finance," said Lyons. "So instead of taking any responsibility, he not only blames his treasurer, but also the COVID-19 pandemic and us for getting caught."
"This is a symptom of the Democrats' one-party grip on Beacon Hill, where they act as if their own rules don't apply to them," stressed Lyons.
Robertson's challenger, Republican Alec DiFruscia, has managed to maintain detailed expenditure reports throughout the ongoing COVID-19 pandemic. Lyons also questioned whether the state's top law enforcement official, Attorney General Maura Healey, is even aware of Robertson's malfeasance.
"Maybe if our AG wasn't so busy using her own office as an extension of the Democratic National Committee, she'd be able to catch fraud like Robertson's here in Massachusetts," Lyons said. "Maura Healey, where are you? Oh, right, probably filing another lawsuit against President Trump."
PRESS RELEASE: How can the public trust Rep. Robertson with their tax dollars when they can't even trust him to report his own spending?
WOBURN, MA — Facebook has apparently caught on to Democratic Rep. David Robertson's shoddy campaign spending reporting and has put a block on ads promoting the Tewksbury Democrat, a review of Robertson's online activity shows.
"Now it appears Facebook is also having to do OCPF's (state Office of Campaign and Political Finance) job for them as well," Massachusetts Republican Party Chairman Jim Lyons said. "The law means nothing to Democrats like Rep. Robertson."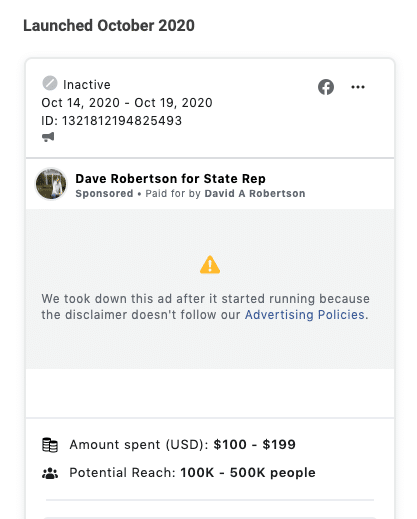 The above screenshot, taken from the Robertson campaign's Facebook account, shows that the Tewksbury Democrat has been paying for ads without disclaimers, meaning his campaign spending has been unaccounted for. Facebook has built-in mechanisms for preventing candidates from being able to post and boost advertisements without first disclosing the funding source.
In Robertson's case, Facebook, unlike OCPF, apparently caught on to the lawmaker's failure to disclose expenditures.
Meanwhile, Robertson's campaign recently filed a new "external activity report" with OCPF that references the $15,399.05 he has spent during the 2020 cycle as "out-of-pocket candidate expense(s) (as loan(s)."
"If we hadn't caught on to his scheming, Rep. Robertson would have kept on illegally spending campaign funds without reporting the expenditures to the state," Lyons said. "This individual's shady accounting practices begs the question — how can the public trust Rep. Robertson with their tax dollars when they can't even trust him to report his own spending?"
Like Wilmington Apple on Facebook. Follow Wilmington Apple on Twitter. Follow Wilmington Apple on Instagram. Subscribe to Wilmington Apple's daily email newsletter HERE. Got a comment, question, photo, press release, or news tip? Email wilmingtonapple@gmail.com.